Train services between Sagauli and Majhowlia in Samastipur Division of East Central Railway were suspended on Saturday. This was done after continuous rainfall led to water touching the girders of bridge number 248 between the two stations.
Heavy rainfall in Nepal and North Bihar has flooded all rivers that flow from Nepal into North Bihar namely Gandak, Burhi Gandak, Kamla Balan, Bagmati and the Kosi.
A swollen Burhi Gandak river has inundated several villages and towns on its course.
Trains re-routed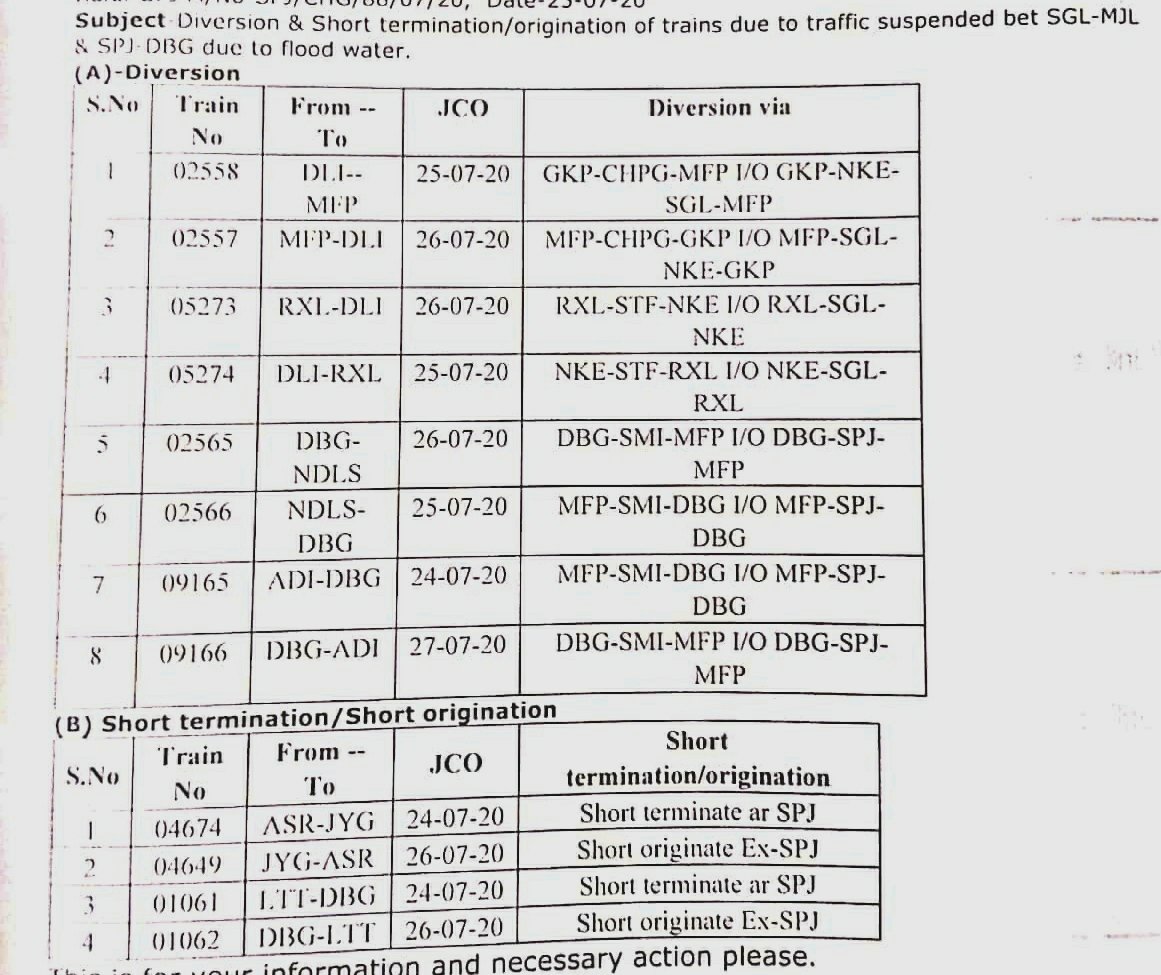 Train number 02557/58 New Delhi- Muzaffarpur (on July 24-25)and train number 09039/40 Bandra- Muzaffarpur express reaching Muzaffarpur on July 25 and departing July 26 via Gorakhpur- Narkatiaganj-Sagauli and Motihari have been re-routed via Chhapra and Hajipur.
Similarly, 05273/74 Raxaul –Delhi special (July 24/25) has been re-routed via Sikta towards Narkatiaganj instead of via Sagauli and Bettiah.
04009/10, Delhi-Motihari-Delhi dated July 25/26 will be short terminated /short originated at Bettiah.
On Friday, train services were suspended between Samastipur and Darbhanga after floods on the Bagmati touched the girder at Hayaghat.
Train number 09165/66 has been re-routed via Muzaffarpur –Sitamarhi – Darbhanga instead of via- Samastipur-Darbhanga.
Also, train numbers 04673/74 ( Amritsar-Jaynagar-Amritsar) and 01061/62 (LTT-Darbhanga-LTT) were short terminated/ originated at Samastipur.